Jodhpur To Udaipur Tour
CITY OF LAKES
Planning a journey from Jodhpur to Udaipur is like embarking on a royal escapade through the vibrant state of Rajasthan. This route is known for its rich cultural heritage, stunning architecture, and scenic landscapes. To make the most of your trip, consider booking a Jodhpur to Udaipur taxi for a comfortable and convenient ride.
A Jodhpur to Udaipur tour promises an enchanting exploration of Rajasthan's diverse landscapes and cultural treasures. Whether you choose to savor the scenic beauty of the journey or book a Jodhpur to Udaipur taxi for added convenience, you'll be immersed in the charm and grandeur of this remarkable state. Explore the lakes, palaces, and markets of Udaipur while relishing the changing scenery along the way. Don't miss the opportunity to experience the magic of this incredible journey.
---
CITY PALACE
City Palace is the largest palace in Rajasthan, located on the eastern shore of Lake Pichola, it is a massive fortified structure, presenting an amazing blend of
rajasthani.
PICHOLA LAKE
Pichola Lake is one of the most beautiful and picturesque lakes of Rajasthan, India. Located in the heart of the city, Pichola Lake is the oldest and one of the largest lakes of Udaipur.
GULAB BAGH
Also known as Sajjan Niwas Garden is the largest garden of Rajasthan, sprawled over 100 acres of land. During 1850's, Maharana Sajjan Singh took the initiative to built this beautiful garden.
---
LOK KALA MANDAL
Bhartiya Lok Kala Museum is one of the most famous museums of Udaipur, exhibiting the brilliant collection of folk articles of Rajasthan from typical rural-dresses, puppets.
SAHELION KI BARI
Sahelion Ki Bari "Garden of maids" is a major tourist destination in Udaipur. The garden is famous for its lush green lawns, marble art and fountains, presenting a green retreat.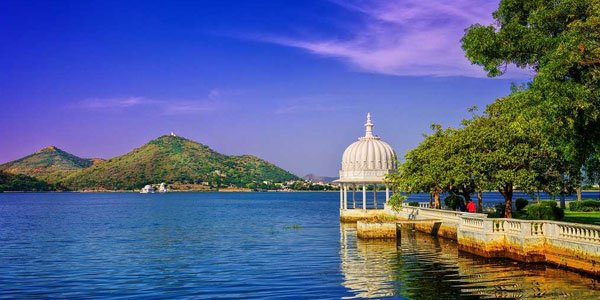 FATEH SAGAR LAKE
Fateh Sagar Lake is the second artificial lake of Udaipur, the first being Jaisamand Lake. Located in the north of Lake Pichola, Fateh Sagar Lake lies just besides the entrance to Moti Magri Hill.
---
JAG MANDIR
Jagmandir is a palace built on an island on the Lake Pichola. Also called the 'Lake Garden Palace', the construction for this began in 1620 and was completed around 1652.The royal family used the palace as resort.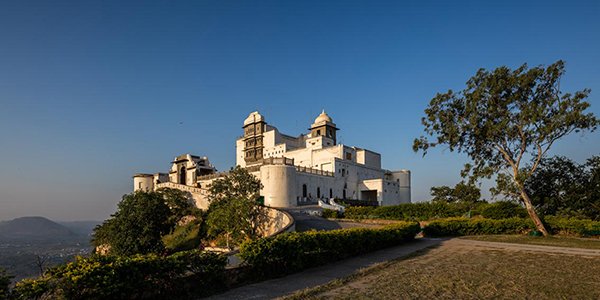 MONSOON PALACE
Situated just outside Udaipur, this 19th-century palace is built on top of Bansdara hills. Used as a monsoon palace and hunting lodge, its builder, Maharana Sajjan Singh, originally planned to make it an astronomical.
JAGDISH TEMPLE
An example of the Indo-Aryan style of architecture, Jagdish Temple was built in 1651 and continues to be one of the most famous temples in and around Udaipur.Dedicated to
Lord Vishnu.
---
SUKHADIA CIRCLE
Sukhadia Circle lies to the north of Udaipur. It comprises a small pond that also houses a 21 foot tall, three-tiered marble fountain. Decorated with beautifully carved motifs.the fountain looks spectacular at night.
BAGORE KI HAVELI
Bagore-ki-Haveli is located by Lake Pichola, at Gangaur Ghat. Amar Chand Badwa, the Prime Minister of Mewar, built it in the 18th century.The massive palace has over a hundred rooms that display costumes.
DOODH TALAI LAKE
The road that takes visitors to Pichola Lake has another popular destination – the Doodh Talai Lake. The lake is nestled between several small hillocks which themselves are tourist
attractions.
---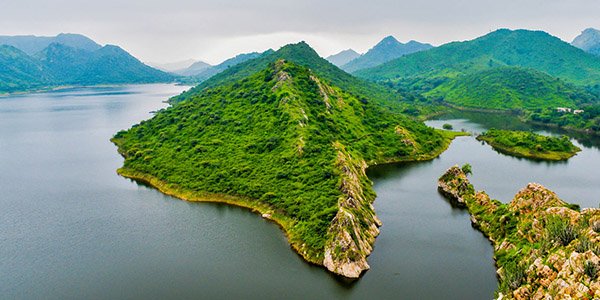 BAHUBALI HILL
At a distance of around 12 km from Udaipur rests a Hill named Bahubali. Hill simply adds up to the beauty as it provides a spot to all the wanderers to adore the magnificence of the Lake and the Aravali Hills surrounding the place.
JAISAMAND LAKE
Jaisamand Lake is the second largest artificial lake in Asia. There are seven islands in the lake, one of which is still inhabited by a local tribe, also it has a temple dedicated to Lord Shiva on
the dam.
UDAIPUR JUNGLE SAFARI
For a nature lover the Jungle Safari in Udaipur is essentially a stroll on the southwest facet of Lake Pichola. It is on a distance of 2.5 km from Dhudh talai vicinity.You will no longer locate many humans at this region however it's miles very a great deal.